Surrey fire service changes revised after consultation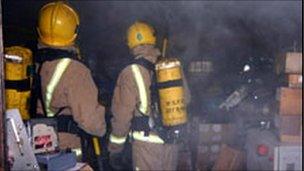 Proposed changes to the fire service in Surrey have been revised following a public consultation.
Surrey Fire and Rescue Authority said it wanted to use more "on-call" firefighters to help with night cover, which it plans to reduce.
The authority said the changes, designed to save £2.7m over four years, would better deploy its resources.
The Fire Brigades Union (FBU) has criticised the proposals, saying they could put lives at risk.
Under the plans the authority also said it would aim to have one engine at critical incidents within 10 minutes and a second within 15 minutes for 80% of call-outs.
Its current target is to reach 75% of Surrey's population within eight minutes, with a second pump within 12 minutes.
Paul Greenwood, chairman of Surrey FBU, said: "It's a bit like moving the extinguisher around in a building that's on fire.
"The consultation process raised serious concerns about the plans and they haven't done anything to address that."
The fire authority said the new response targets were, on average, what it was already achieving.
It said plans to decrease night cover from 20 full-time engines to 16 were in response to the fact it received fewer calls in the evening.
This change would largely be offset, it added, with new shift patterns for retained, or "on call", crews.
Day cover, meanwhile, is increasing.
Simon Moore, assistant chief fire officer at Surrey Fire and Rescue Service, said: "The alterations are not only about recognising people's concerns, but also about recognising how we can better use resources."
The revised plans, which follow a three-month consultation, will now go before Surrey County Council's communities select committee on 9 June, before being discussed at a cabinet meeting on 21 June.
Related Internet Links
The BBC is not responsible for the content of external sites.