Sutton and East Surrey water warning follows dry spring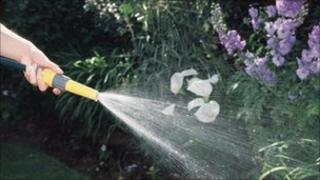 Customers have been asked to use water with care after a dry spring and predictions of a long, hot summer.
Sutton and East Surrey Water said its boreholes were below average for the time of year and Bough Beech reservoir was 88% full.
The water company takes 85% of its supplies from boreholes and 15% from the reservoir.
People have been asked not to use sprinklers and to keep garden watering to a minimum.
Operations director Mike Hegarty said the company did not expect to have to introduce water restrictions.
But he said lawns did not need watering and most plants were very resilient.
Precautionary measure
He said the company's main concern was if there was a long, hot summer with high demand for water, followed by a dry winter.
He said winter rainfall saturated the ground and replenished the aquifers, while summer rainfall helped to reduce demand but did not reach underground sources.
"Our customers responded brilliantly by reducing demand during the drought in 2006," he said.
"We are following the precautionary principle by asking them to adopt similar behaviour."
The company supplies water to more than 650,000 people in east Surrey, and parts of West Sussex, west Kent and south London.