Bellfield 'walked where Milly's body found'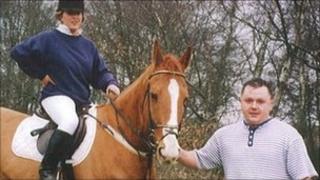 The ex-girlfriend of the man charged with murdering Milly Dowler said she used to walk with him in the area where the 13-year-old's body was found.
Johanna Collings, 38, told the Old Bailey she had been to the woods at Yateley Heath, Hampshire, five or six times with Levi Bellfield.
Bellfield, 43, denies abducting and murdering Milly in March 2002, while he was living in Walton-on-Thames, Surrey.
Her remains were discovered in the woods six months later.
Miss Collings told the court that she and Bellfield went to the woods while he was training her whippet puppies.
He also accompanied her when she took part in show jumping events at Yateley.
She said: "I drove the horse down and he would follow in a car. He didn't blend in."
Miss Collings had met Bellfield in the mid-1990s while he was working on the door at Rockys nightclub in Cobham.
They lived together in Strawberry Hill, Twickenham, and were in a relationship for three to four years before Bellfield went on to meet his long-term partner, Emma Mills.
Earlier, a friend of Bellfield told the court he had helped clear a mattress and clothes from the flat in Walton the day after Milly went missing.
Bellfield denies abducting and murdering Milly, 13, and attempting to kidnap 11-year-old Rachel Cowles in March 2002.
When Milly's remains were found they were too decomposed to reveal how she died.
The former wheelclamper and bouncer was convicted in 2008 of the murders of Marsha McDonnell, 19, and Amelie Delagrange, 22, and the attempted murder of Kate Sheedy, 18.
The trial continues.