Surrey wife 'killed Richard Challen with hammer'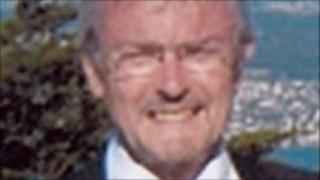 A wife who suspected her husband of infidelity bludgeoned him to death and later said: "If I can't have him, no-one can," a court has heard.
The body of Richard Challen, 61, the retired owner of a car dealership in Richmond, was found in Claygate, near Esher in Surrey, in August 2010.
Georgina Challen, 56, an office manager from Claygate, is accused of attacking him with a hammer as he ate lunch.
Mrs Challen, who is known as Sally, denies murder at Guildford Crown Court.
Jurors heard the couple, who had two sons and had been married 31 years, had been living apart and were attempting to patch up their marriage.
Mrs Challen was convinced her husband's efforts were a "ruse" and that he was having an affair, the court heard.
Prosecutor Caroline Carberry told the jury Mrs Challen arrived at Ruxley Ridge, the house the couple had shared, with a hammer in her handbag on 14 August.
'Extreme ferocity'
She checked his phone to find out her husband's most recent call, and was consumed by "jealousy and suspicion" when she dialled the number and a female answered.
Ms Carberry said Mrs Challen made her husband lunch and as he ate she attacked him with the hammer with "extreme ferocity".
The next day, Mrs Challen drove to Beachy Head, from where she called her cousin to admit the killing, jurors heard.
When a suicide team and chaplain were dispatched to the cliff top, she repeated the admission.
"When asked how it happened, she said: 'I killed him with a hammer. I hit him lots of times'," the prosecutor said.
"She added: 'If I can't have him, no-one can'."
Police later found the 61-year-old's body on the kitchen floor covered in blankets. A hand-written note placed upon it read: "I love you, Sally."
A post-mortem examination found Mr Challen died of "severe blunt force trauma to the head".
Mrs Challen will claim that she was suffering from "diminished responsibility" due to "abnormality of mind", the court heard.
Giving evidence, James Challen, 27, said his mother had "very low" self-esteem, which he attributed to Mr Challen's dominant nature.
The trial continues.