Milly Dowler's father 'among 54 suspects'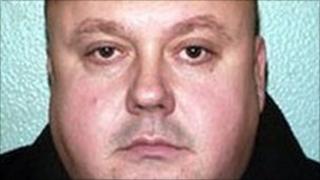 Police in the Milly Dowler murder case investigated 54 suspects including the teenager's father after she was killed, jurors have heard.
Levi Bellfield, who denies murdering the 13-year-old, was among the suspects, the Old Bailey was told.
It was not until Bellfield was arrested for other murders in 2004 that a connection was made between him and a flat in Walton-on-Thames, jurors heard.
Milly vanished in Walton-on-Thames, Surrey, as she walked home from school.
Other suspects questioned at the time included a man with a white van who had visited Yateley Heath in Hampshire where the teenager's body was found six months after she went missing in 2002, jurors heard.
'Moved in a hurry'
Det Sgt Tim Barrett told the court how police knocked 11 times on the door of Bellfield's flat in Collingwood Place during house-to-house inquiries but got no reply.
Jurors heard Bellfield had been living in the flat with his family.
The property was just feet away from where Milly was last seen in Station Avenue, the court was told.
The prosecution claims Bellfield moved out of the flat in a hurry after the murder.
A statement read to the court said: "The occupants of Flat 24 were neither seen or identified during 11 separate visits.
"No inquiries were made with estate agents in order to trace those occupants."
Det Sgt Barrett also told the court that the occupants of all the 52 flats and also people living in the area were interviewed but were not implicated.
Levi Bellfied, 43, denies abducting and murdering Milly.
Bellfield also denies attempting to kidnap 11-year-old Rachel Cowles in March 2002.
Bellfield, a former wheelclamper and club bouncer, was convicted in 2008 of the murders of Marsha McDonnell, 19, and Amelie Delagrange, 22, and the attempted murder of Kate Sheedy, 18.
The prosecution closed its case on Tuesday and the trial was adjourned until Thursday.