Sally Challen 'had to jump' after killing husband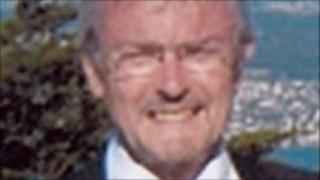 A mother-of-two who bludgeoned her husband to death with a hammer planned to jump off the roof of a town centre car park afterwards, a court has heard.
But when Sally Challen drove to the multi-storey building from his home in Claygate, Surrey, she found it closed and later went to Beachy Head.
She told police: "I had to jump, I had to do something in order for us to be together," Guildford Crown Court heard.
Mrs Challen, 57, denies murdering her husband Richard on 14 August last year.
The couple, who had been married for 31 years, had been living apart but trying to patch up their marriage.
The court was shown a video of Mrs Challen telling police how she crept up on her husband from behind, armed with a hammer, as he ate lunch at the kitchen table.
She described events after the killing at the house, called Ruxley Ridge, saying she bought cigarettes, drank some wine and composed a suicide note.
Dating agency
She said she was reluctant to carry out her suicide bid until the next day, a Sunday, after she dropped her younger son, David, 24, off at work at Carluccio's restaurant.
"My plan was to go and jump off the Marks and Spencer car park in Kingston," she said.
The killing happened after years of mistrust and after Mr Challen, 61, started seeing a woman he met through a dating agency.
"I wanted to be with Richard and I don't know why I did what I did," Mrs Challen told officers.
Recounting her movements the next day, she says: "I drove to Kingston but the car park was closed and I didn't know what time it opened... so I decided to drive to Beachy Head."
She lost her way several times and was forced to stop and ask directions to the East Sussex cliff face.
On arrival she looked for a place to jump, eventually seeing "crosses" where "previous people" had fallen to their deaths.
Mrs Challen, of Ashton Place, Claygate, admits killing her husband but denies murder claiming diminished responsibility.
The trial continues.