Epic run from Canterbury to Rome follows pilgrimage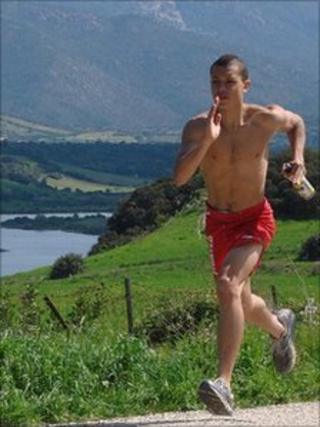 A pair of students from Redhill, Surrey, will run from Canterbury to Rome, following the route of an ancient pilgrimage, to raise money for charity.
James Anderson and Max Hannah, both 20, will begin the epic journey outside Canterbury Cathedral on 17 June.
They expect it will take them 60 days to complete the route, which is inspired by a pilgrimage called the Via Francigena.
Despite the distance, they said they were looking forward to the challenge.
Mr Anderson, who is studying at Portsmouth University and is hoping to join the Royal Marines, said: "We're not that religious, but we look at this as a spiritual journey.
"We haven't got a support team, just a buggy, and we're planning on doing this in 60 days while camping most nights."
'Running addictive'
The pilgrimage dates back to 990AD and was conducted by archbishops receiving their symbols of authority from the Pope and also normal pilgrims.
The pair will be raising money for WaterAid and the British Lung Foundation and expect to run a marathon each day.
"The running is addictive," said Mr Anderson.
"When you're doing it at times it does feel grim, but when you finish there's this massive sense of achievement.
"It's quite meditative - you see parts of your psyche you never normally get to see."
And Mr Anderson said the pair were not looking forward to the mountainous stretches of the journey.
"I'm dreading running over the Alps with the buggy, but I'm sure we will really enjoy running through sunny Italy," he said.