Killed Surrey husband Richard Challen 'visited brothel'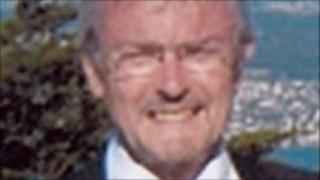 A woman who bludgeoned her husband to death with a hammer followed him to a brothel after suspecting he was cheating on her, a jury has heard.
Georgina Challen, 57, of Claygate, Surrey, admits killing husband Richard on 14 August 2010 but denies murder, claiming diminished responsibility.
Guildford Crown Court heard Mrs Challen kept a diary detailing all his movements as their marriage fell apart.
She also noted down when his Viagra tablets appeared to have been used.
The couple, who had been married for 31 years, had been living apart but trying to patch up their marriage.
'Seeing other women'
The court has heard Mrs Challen, known as Sally, crept up on her husband from behind, armed with a hammer, as he ate lunch at the kitchen table.
Following the killing, she fled to Beachy Head in East Sussex with the intention of taking her own life.
Giving evidence, the mother-of-two told the court how she began to suspect her husband might be seeing other women in 2004 after he began salsa classes.
Later, her fears were proven when she followed him to Pandora's Box, in Surbiton, south London, in a bid to discover whether he had been cheating on her with prostitutes, she said.
Dating agency
"I had to wait there because I knew I had to confront him when he came out and he ran off," she told the court.
Mrs Challen carried out her attack after she confronted her husband on his plans for the next day, believing he intended to go boating with a woman he had met after joining a dating agency.
"He said 'don't question me, don't question me'," Mrs Challen told the court.
"I picked up the hammer and I hit him over the head."
Asked if she "meant" to kill the former car dealership owner, she replied: "I suppose I must have."
Patrick Gibbs QC, defending, asked: "Did you love him?"
"Yes," she replied.
"Why did you kill him?" the barrister asked.
"I don't know, I just didn't think that he wanted to be with me. I don't know," she said.
The trial was adjourned until Friday.