Mole Valley police warning as dogs attack livestock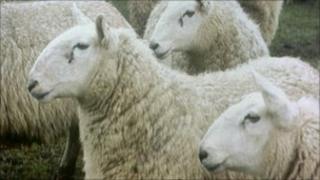 Dogs have killed or mauled sheep and other livestock, including a horse, in several incidents in an area of Surrey.
The attacks have led Surrey Police to remind dog owners their pets could be shot and they could be prosecuted if their animals worry livestock.
The incidents included an attack on a ram in Mickleham, cows in Dorking, and a horse as it was being ridden across Headley Common.
Last Friday, a ewe in Holmwood was so seriously injured, it was put down.
'Hunting instinct'
Pc Mark Trezise said: "It is totally unacceptable for dogs to attack and maul livestock and for their owners to allow them to be dangerously out of control.
"Often a loose dog will find sheep and chase them for fun initially but eventually the hunting instinct takes over and they kill or seriously injure the livestock."
He added it was worse if there was more than one dog because they acted as a pack.
"Being attacked by a dog is a very cruel way for any animal to die or be injured," he said.
A woman has been charged with a separate incident of a dog worrying livestock in Westcott in March, he said.
Dorking farmer Hugh Broom said: "The safest thing to do on farmland is keep your dog on a lead.
"Dog attacks cause untold suffering and horrendous injuries to the animals which often results in them having to be put down."