Watts Gallery reopens after restoration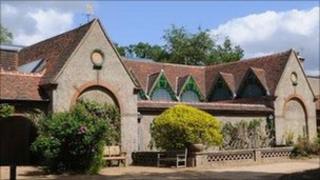 A Surrey art gallery which showcases the work of a celebrated Victorian artist is opening to the public after an £11m two-year restoration project.
Watts Gallery, in Compton near Guildford, was created by George Frederic Watts for his works, which he left to the nation.
It originally opened in 1904 but fell into disrepair with a leaking roof.
"Now it is fantastic that we don't have to think about those things," said curator Mark Bills.
"My heart would sink when it rained because we would have to wander through the gallery and get the buckets out.
"Then I would return to my kitchen which would have 2in of water in it."
The Prince of Wales and the Duchess of Cornwall visited the restored gallery, which reopens on Saturday, on their trip to Surrey last month.
Watts Gallery came to public attention when it narrowly missed winning the final of the BBC's Restoration Village in 2006.
The £11m needed was later raised to restore and protect the building, including £4.9m from the Heritage Lottery Fund.
Watts was considered by some of his contemporaries to be the greatest painter of his age.
"One of the good things about Watts is that he is quite an enigmatic figure," said Mr Bills.
"Living here, and being so engulfed in the project for five years, I feel a closeness to him."