Prayers said for victims of 1972 Staines air disaster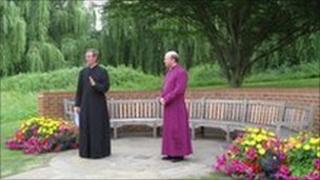 A memorial service has been held to remember the 118 people who died in the 1972 Staines air crash.
British European Airways Flight BE548 crashed in a field after taking off three minutes earlier from Heathrow Airport, bound for Brussels.
Prayers were said at 1000 BST on Saturday at a memorial ground in the town followed by a service at St Mary's Church, led by the Reverend Rod Cosh.
The crash on 18 June 1972 was one of the UK's worst air disasters.
The Mayor of Spelthorne councillor Sam Budd, council leader Vivienne Leighton and staff from Spelthorne Council also took part in the events.
'Dropped from sky'
In 2004, a memorial bench was installed at the Moormede Recreation Ground and a stained glass window was unveiled at St Mary's Church to commemorate the disaster.
The Trident jet - which had been involved in another accident in 1968 - was only three miles from the airport when witnesses said it "dropped out of the sky".
Eyewitnesses said the plane broke into two as it fell - the fuselage ploughed into trees and the tail section landed 50 yards away.
Rescue teams pulled two people alive from the wreckage - a young girl, who then died at the scene, and a businessman who died a few hours later in hospital.
An inquiry by the Air Accidents Investigation Branch said a speed error had caused the plane to stall and the aircraft was not at a sufficient height for the crew to regain control.