Sally Challen guilty of murdering husband Richard with hammer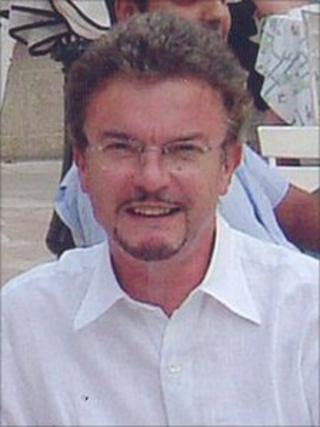 A woman has been jailed for life after being convicted of murdering her estranged husband by bludgeoning him to death with a hammer.
Georgina Challen, 57, known as Sally, from Claygate, Surrey, admitted killing Richard Challen, 61, but denied murder claiming diminished responsibility.
She attacked him, believing he was cheating, and later said: "If I can't have him, no-one can."
Challen was ordered to to serve a minimum term of 22 years in jail.
Jurors were told she attacked the retired businessman in August 2010, as he ate lunch at the kitchen table of their former marital home, using a hammer she had brought in her handbag.
'Other women'
A post-mortem examination revealed the cause of death to be severe blunt force trauma to the head.
Police later found his body on the kitchen floor covered with old curtains with a handwritten note from his wife placed on it saying: "I love you, Sally."
Asked why she killed him, Challen told the court: "I don't know. I just didn't think that he wanted to be with me."
The couple had been attempting to patch up their marriage after separating and living apart, but Challen became enraged after discovering the former car dealer had phoned another woman.
After attacking him, she drove 70 miles to Beachy Head in East Sussex.
As chaplains tried to coax her away from the cliff edge, she admitted killing her husband of 31 years.
"I killed him with a hammer. I hit him lots of times. If I can't have him, no one can," she told them.
Passing sentence, Judge Christopher Critchlow told the former Police Federation office manager, of Ashton Place, Claygate: "You found yourself being eaten up with jealousy at his friendships with other women.
"You didn't want that and, as you have said, decided that if you could not have him, nobody would."
Speaking after the verdict, Det Ch Insp Chris Raymer, of Surrey Police's Major Crime Investigation Team, said: "This has been an extremely sad and difficult time for the family and friends of this couple, in particular their two sons, and our thoughts remain with them."
In a statement their sons James and David said: "We would like to thank our family and friends for their continuing support during what has been an incredibly difficult time.
"We would now appreciate it if our privacy is respected."