Sainsbury's 'told transgender woman to use disabled toilet'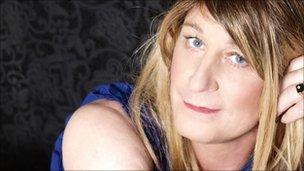 A transgender woman who was told to use the disabled toilets at a Surrey supermarket has rejected the store's apology.
Stephanie Collins, 55, was born a male but has regarded herself as female for much of her life, and has considered herself transgender since 2009.
Sainsbury's wrote a letter apologising following the incident with a member of staff at its Walton-on-Thames store.
But Miss Collins dismissed it, saying: "They haven't addressed the issue."
She was approached after a customer complained that the care worker had used the women's toilets at the supermarket.
The member of staff told her she should have used the disabled one.
"I told her I couldn't do that because I'm not disabled and it would be wholly inappropriate to take up a facility intended for others," said Miss Collins.
Sainsbury's has written to her, apologising "unreservedly for any offence caused".
The company said in a statement: "We pride ourselves on our high standards in customer service, something that clearly has not been met in this instance."
But Miss Collins - whose eldest child works in the same branch of the store - said: "I am more annoyed about the non-apology than the incident."
She added: "I really felt for [the staff member]. I don't think she knew what to do. It isn't her fault. She wasn't trained.
"I'm going to respond and tell them they haven't addressed the issue."
According to the Human Rights Commission, transgender is "an umbrella term used by people whose gender identity and/or gender expression differs from their birth sex", regardless of whether they choose to have gender-reassignment treatment.
Miss Collins, who was originally named Stephen, is now awaiting official paperwork recognising her as a female in law - something that would enable her to marry a man.
She said she would still use the store, at The Heart shopping centre, in future.
"My son works there, and I love him," she said.
Related Internet Links
The BBC is not responsible for the content of external sites.