Surrey care home trial of dementia help deemed success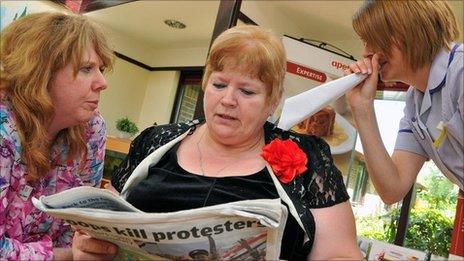 Rearranging furniture and making carers wear distorted goggles may not seem like the obvious way to help people with dementia.
But innovative techniques tried out at nine care homes in Surrey will now be rolled out across the country after being deemed a success.
Staff at the homes underwent special training to help them empathise with their patients.
This included being made to wear gloves that reduce the sense of touch and listen to loud white noise, in an attempt to evoke feelings of what it might be like to have dementia.
Staff also brought in items of furniture to try to trigger memories of the patients' past, including fireplaces and mantelpieces, into lounges so they more closely reflect a family home.
They also set dining tables in advance to give residents a sense that it is time for a meal and introduced period fittings, such as old-style telephones or ornaments from the 1940s to 1960s - to stimulate memories and create a talking point.
Care UK, a health and social care services provider, said the results of the nine-month trial had been so positive that it would be rolled out elsewhere in the country.
Karen Morrison, from Care UK, said: "Staff have eureka moments and it is wonderful to see.
"For example, with the experience of having constant white noise in their ears and distorted vision, my colleagues quickly learnt how a resident could have mistaken a trick of the light for a hallucination.
"We are getting powerful feedback on how staff are looking beyond what they can initially see - to really understand what might be troubling a resident."
Ms Morrison said results of the trial showed more residents felt settled, showed greater levels of independence and slept better.
Related Internet Links
The BBC is not responsible for the content of external sites.