Scrapped Banstead swimming pool plan could go ahead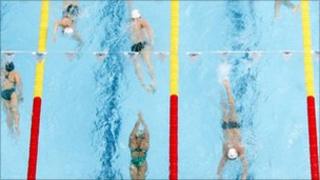 Plans to build a swimming pool that were dropped by a Surrey council could now get the go-ahead.
Reigate and Banstead councillors will consider plans for a pool at Banstead leisure centre on Thursday.
Last year, the local authority said it could no longer afford the pool at the new leisure centre being built on the Merland Rise recreation ground site.
Councillor Adam De Save said the council had identified potential additional income.
He said the estimated cost of building the centre was £6.6m with £4.3m from capital funds and the remaining capital coming from income from redevelopment.
He said: "We have thoroughly investigated a range of options for the new leisure centre and their implications and we have listened to what is important to local residents when drawing up these recommendations.
"However we are not changing our original capital budget - we have identified potential additional income from the proposed regeneration of Merland Rise and the old leisure centre site by making best use of our assets."
Plans for the new centre now include a six-lane swimming pool, a teaching pool, a gym, a dance studio, changing rooms, a creche and a cafe.