Surrey volunteers find rare caddis fly on Chobham Common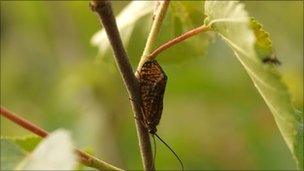 A rare insect which lost much of its habitat during grassland fires has been found at a second site in Surrey.
Volunteers carrying out surveys for Surrey Wildlife Trust (SWT) and the Riverfly Partnership found the window-winged caddis fly at Chobham Common.
SWT said that in southern England the insect was previously only thought to exist on Whitmoor Common in Guildford.
Scotty Dodd, an ecologist at SWT, said fires had wiped out vast areas of its habitat at Whitmoor.
"The recent discovery at Chobham Common suggests that the species may still be found in other areas," he said.
"Recent catastrophic fires have wiped out vast areas of its core habitat at Whitmoor Common and it is therefore all the more important that survey and monitoring inform site management where the species is still hanging on and doing well."
He said the window-winged caddis was an attractive insect that flew during the day during May and June in the South.
In the north of England, populations still fly into July.
The adults have distinctive orange and black mottled wings and are most often spotted on vegetation in damp areas.
Shrubs such as birch and aspen may be important for swarming adults and small pools of water provide habitats for larvae.
Related Internet Links
The BBC is not responsible for the content of external sites.