Guildford road injuries cut in safety drive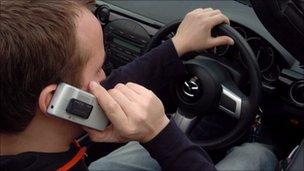 The number of people injured in road accidents in a Surrey town has fallen since the introduction of a county-wide safety campaign, police have said.
A total of 76 people were killed or seriously injured in Guildford during 2010, a 6% reduction from 81 in 2009.
The number suffering slight injuries fell 20% to 674, beating a target figure for 2010 of 830.
The reductions are being hailed as a success for the Surrey County Council and Surrey Police Drive Smart campaign.
The campaign, which got under way in 2009, aimed to cut anti-social driving and change and improve the behaviour of road users.
Drivers are targeted for activities including using a mobile phone, driving without a seat belt, tailgating and drink driving.
Across the county, 32 people died on the roads in 2010 compared to 41 the previous year while those seriously injured fell from 530 to 488.
"It is an excellent and significant achievement to have reduced road casualties in excess of targets set for 2010," said Guildford councillor Stephen Mansbridge.
"But of course every death and every injury caused by a road traffic accident is one too many."