Himalayan first for Surrey woman Toni Wilson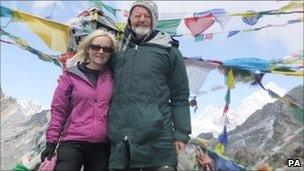 A woman from Surrey has become one of the first people in the world to complete a 1,000-mile (1,700km) trek traversing the Himalayas.
Amateur mountaineer and single mother Toni Wilson, 49, from Epsom, completed the Great Himalaya Trail on 16 July.
It is described as the longest, highest and most expensive trek in the world.
Along with Australian teacher Greg Babbage, she took 157 days travelling east to west, climbing 30 high-altitude mountains.
During the trek they confronted blinding blizzards, dangerous crevasses and even a rare snow leopard.
Ms Wilson said she had never done any climbing before the trip, but was determined to do something special before reaching the age of 50.
"We started in February when it was terribly cold and we were constantly climbing and dropping so the conditions varied hugely.
"One of the most special memories was seeing a snow leopard just across the river where we were walking - it had just finished killing a sheep and was tucking in."
She added that she would also take away "fond memories of the Nepalese people".
Ms Wilson said she hoped to set up a business helping people in Nepal, and to visit China with her 19-year-old daughter next year, before scaling an 8,000-metre (26,250ft) peak.
Related Internet Links
The BBC is not responsible for the content of external sites.