RHS Wisley's 'stressed' trees get early autumn colour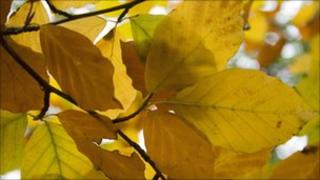 With still a month to go until the official end of summer, some trees have already started to turn to their autumnal colour.
An exceptionally hot and dry spring has prompted the change, according to the Royal Horticultural Society (RHS).
The colour, seen on trees such as maples and birches, is due to the dry soil.
The RHS has seen yellowing and some red and brown tints on leaves at its gardens in Wisley, Surrey.
And according to Guy Barter, chief horticultural adviser at the RHS, other areas of the country including the East and West Midlands and East Anglia, are also experiencing the problem.
He said: "When plants run out of water they become stressed and they reallocate resources and green leaves to more important parts of the plant.
"By the end of summer they are under a lot of stress and their leaves are going limp and starting to colour. It's a way to stay alive."
Mr Barter said this had been particularly evident on leaves in the middle of the trees, which the tree can afford to lose without stopping much photosynthesis.
"The damp summer we've had fools gardeners because they see the rain coming down and think this must be good," he said.
"But when rain falls on warm foliage a lot of it runs off and is rapidly used by plants."
He added that the early colouring should not damage the trees in the long term.