Surrey woodland damaged by illegal mountain bike track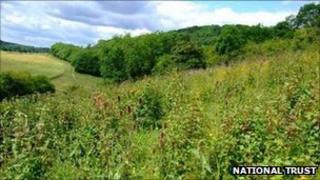 Part of a local beauty spot in Surrey has been wrecked by vandals to create an illegal mountain bike track, according the National Trust.
Denbies Hillside near Dorking is part of the North Downs and is known as a Site of Special Scientific Interest because of the wildlife it attracts.
Trees which were up to 100 years old have been hacked down, the trust said.
Head ranger Robert Hewer said that damage has caused significant impact to the woodland and wildlife.
"We've got a live badger set in here and it is actually illegal to disturb a badger set.
"We have a policy of open access to runners, cyclists, walkers but there is a group who want more than that to get into these woodlands to build these very challenging trails."
"We are more than happy to engage with groups, but to come on to the land like this and cut down trees is really unacceptable."
The damage to the woodland is now the subject of a police investigation.
Local cyclist Ben Tudor said: "Many of the local mountain bikers are not hugely impressed with the damage that's been done to the hillside, especially as it's led to a trail that's been there for years being closed down."
He believes that mountain biking community contributes a good deal to the local economy with bike shops, cycling skills courses and some cafes reliant on trade from cyclists.
"You need to think about the impact this is having on local business and the mountain biking community too," he said.
"Trails build up over the years or emerge naturally. Those that have been built in a destructive manner, bringing timber onto trails, is not how most of the trails have grown up.
"This is probably the first time criminal damage has been alleged with the police investigating."