Collapsed A320 in Woking reopens to traffic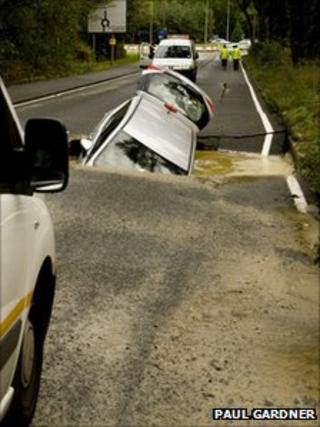 A main road in Surrey has been repaired after a hole opened up and swallowed a car when a water main burst.
The Vauxhall Meriva was stuck after part of the A320 Chertsey Road, Woking, collapsed on Wednesday. Flooding was first reported just after 05:30 BST.
The road was closed between the McLaren's roundabout at Martyrs Lane and the Six Crossroads roundabout.
Veolia Water UK at first said repairs might take four days, but the road reopened at 20:00 BST on Thursday.
"It's amazing. They have really done a fantastic job considering the size of it," said Noah Le Mare, who runs nearby Dragons Fireworks.
"The problem is that we are on sand here so when there is a burst main it just creates an enormous crater very easily."
Mr Le Mare said he believed the woman driver of the car left the vehicle before the road subsided.
Veolia Water thanked motorists for their patience while the repair was carried out.