Nicholas Driver review: No concern 'in most cases'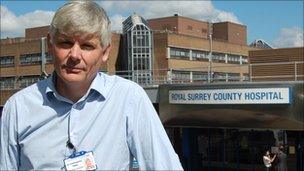 A review into the treatment of 569 children by a specialist epilepsy doctor has ended with no concerns being raised in the "majority" of cases.
Dr Nicholas Driver was suspended from the Royal Surrey County Hospital in July due to worries about his methods.
A case note review into 569 children was ordered by the Guildford hospital's medical director Christopher Tibbs.
The initial review has been completed and a "minority" of children will have to be seen by an expert.
The Medical Defence Union, which represents Dr Driver, has said he cannot comment while investigations are ongoing.
The hospital refused to indicate how many children doctors were concerned about.
Dr Tibbs said: "I am pleased to announce this review is now complete and no concerns have been raised about the current management of the majority of the children in the review.
"We have now contacted the parents of all the children involved, to inform them that the case notes review has been completed and to advise them of any further steps which may be necessary for each individual child.
"Some children and their parents or carers will be offered an appointment in the next few weeks at special clinics to be held at the Royal Surrey, where management will be reviewed with an external expert paediatric neurologist."
He added the next stage of the review where children will be seen in a clinical setting will "also be a lengthy process".
"Our priority, as before, is to ensure all the children involved are receiving the best possible care and to support the families of any of the children involved to the best of our ability," he said.
Dr Driver was suspended after a paediatric neurologist from a different hospital raised concerns in February.
Related Internet Links
The BBC is not responsible for the content of external sites.