Guildford considers three sites for travellers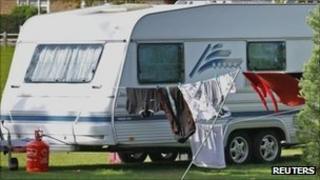 Three sites are being considered to provide more pitches for gypsies and travellers in a Surrey borough.
Guildford council said it was looking at an extension to the existing Ash Bridge site in Ash Road and land north of Stonebridge Depot in Shalford.
It is also considering land at Home Farm in Effingham. All the sites are owned by the borough or county council.
Tory council leader Tony Rooth said Guildford had an urgent need for pitches for its established travellers.
Only two new private pitches and no new public sites had been created in recent years.
'Everyone's views'
As a result, temporary planning permission had been granted by planning inspectors for a number of pitches on green belt land, he said.
"This means we have little control over the location of new sites, which could be unsuitable and strain local community relationships.
"We want to address this issue properly, in a planned way and listen to everyone's views across the whole community."
Technical assessments on the suitability of the potential sites are to be carried out as a first step.
If a site is considered suitable a planning application will be prepared.
The council said it also intended to look for other potential sites for gypsy and traveller pitches for inclusion in its local plan by March 2015.