Children in Need grant helps jailed mothers' children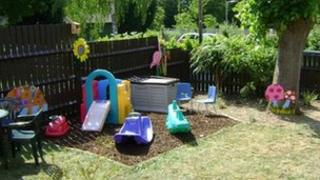 A Surrey charity project that supports children whose mothers are in prison has been backed by a grant from Children in Need.
The Send Family Link provides advice for families who have female relatives at HMP Send, Woking.
Their aim is to help relationships between mothers and their children.
A £27,000 Children in Need grant has funded Send Play Project, a scheme which aims to make prison visiting more fun for children.
It has paid for playing materials and equipment which some children might not have access to at home.
Sue, a Send play worker of six years, said the activities were very positive for the children.
"They have a lovely time really and quite often they don't want to go home at the end of the session," she said.
'Child friendly'
The grant has also covered the cost of play workers, who are are present during each visit and encourage mothers and children to play together.
Secretary to the trustees Sarah Bayliss said: "Unfortunately lots of the women don't know how to play with their children because they may have had drug problems in the past.
"Two thirds of these children end up going on to crime themselves, that's the cycle we're trying to break by making these visits more appealing."
Rachel, who has been visiting Send for about three months, said the project needed to continue because it made prison visits child friendly.
She added: "I find the arts and crafts bit really good, children can do pictures for their parents who can put it on their wall."
Children in Need has awarded 12 grants in Surrey in the last year amounting to more than £220,000.