St Peter's Hospital celebrates bumper crop of twins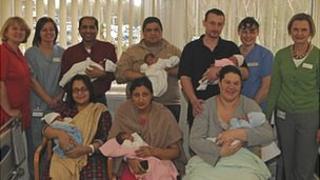 The maternity unit at a Surrey hospital is celebrating the births of four sets of twins in 24 hours.
The department at St Peter's Hospital in Chertsey delivered the babies, all of whom arrived naturally, over a 24-hour period on Monday and Tuesday.
The hospital said it was hectic and extraordinary to deliver so many twins in such a short space of time.
"Even our long serving members of staff can't recall it ever happening before," said head midwife Sandra Houston.
The hospital delivers more than 4,000 babies a year, including many sets of twins and triplets, whose births can be more complicated than single deliveries.
"I would like to congratulate all the parents on their new arrivals and also thank my team for the excellent care they provide," said Ms Houston.