Cecil Hepworth's Walton Playhouse reopens after revamp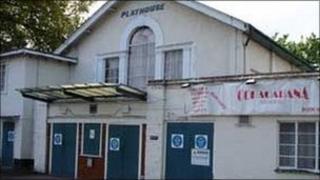 A Surrey theatre built as a studio in 1920 by British film director Cecil Hepworth has reopened after a revamp.
Elmbridge Council said an extensive £350,000 renovation programme had brought the theatre "up to standard".
Walton Playhouse originally formed part of the Hepworth Film Studios and was turned into a theatre in 1924 after the studios closed.
Cinema pioneer Cecil Hepworth bequeathed the building to local dramatic societies.
The council said the Playhouse was one of the most prominent arts venues in the borough and has long held a much-respected place at the heart of the local community.
It said much of the refurbishment had been faithful to the original features, but the venue had also been brought up to the standards of the 21st Century.