London 2012: Surrey calls for more volunteers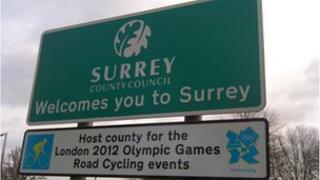 Volunteers are still needed to be ambassadors for Surrey when the 2012 Olympic cycle events and torch relay are in the county.
The county council said hundreds of people had sent applications to welcome visitors and provide information about the area during July and August.
But more prospective volunteers are needed before the deadline for applications runs out on Tuesday.
Up to 450 people will be recruited to help more than one million visitors.
"It is a once-in-a-lifetime opportunity and I encourage everyone who wants to play their part in the 2012 Games to apply now," said Councillor Denise Saliagopoulos.
"Ambassadors will get invaluable experience working directly with the public, they will get training and meet people from all over the world."
Volunteers will be on duty on 20 July when the torch relay reaches Guildford for its final overnight stop before it enters London.
They are also needed for the Olympic road cycling races which will be making their way through Surrey, including Box Hill, on 28 and 29 July and the cycling time trial on 1 August.
The volunteers will be positioned at key locations along the cycle route or at railway stations to give directions, provide information and encourage spectators to visit other Surrey attractions.
They should be over 18 and able to commit to at least two five-hour days and will have a half-day training session.