Surrey's 'salt mountain' ready as heavy snow forecast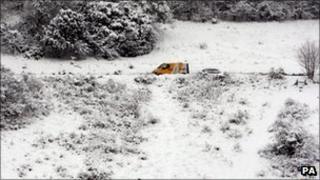 A "mountain of salt" was being used to treat roads across Surrey as freezing weather hit the county amid forecasts of heavy snow.
Surrey County Council (SCC) said it had 17,000 tonnes of salt available, together with a fleet of gritters and an army of volunteers.
Epsom and St Helier NHS said the cold weather had already been having "a massive impact" on Surrey.
The South East was bracing itself for 5-10cm (up to 4in) of snow after dusk.
Flights cancelled
The Met Office issued amber "be prepared" snow warnings for areas across the UK, including the South East.
About a third of Sunday's flights from Heathrow were cancelled.
A revised schedule showing which flights will operate was due to appear on the airport's website at about 18:00 GMT on Saturday, airport operator BAA said.
SCC said it had more than 40 gritting lorries and 30% more salt than last year.
The local authority also had 50 farmers available to help clear roads, and about 70 volunteers from Surrey 4x4 response who could use their vehicles to help people with transport during harsh weather.
More than 1,700 grit bins were filled across the county.
Council leader David Hodge said: "Getting through any severe winter weather requires us all to play our part."
Mr Hodge said the local authority could not do everything and urged people to clear snow from their own properties and check on elderly and vulnerable neighbours.
Dr Ruth Charlton, deputy medical director of Epsom and St Helier NHS said: "The cold, snow and ice are having a massive impact on Sutton, Merton and Surrey and it makes it difficult for people to get out and about. And it can be even harder for older and more vulnerable people."
She said the trust's hospitals saw a significant increase in the number of people being brought into A&E during cold weather, such as elderly people who had fallen on ice and suffered broken bones.