Best short animation Bafta award for Surrey graduate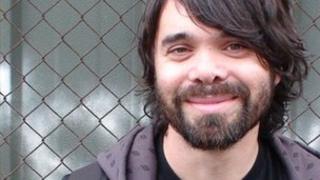 A graduate of the University for the Creative Arts (UCA) in Farnham in Surrey has won the award for best short animation at Sunday's Baftas.
Grant Orchard picked up the award for A Morning Stroll and has been nominated for an Oscar in the best animated short film category.
Mr Orchard said it was difficult for short films to reach a wider audience.
"I used to love watching a short film before a feature [film], that was a highlight," he said.
"People don't tend to do it anymore, I don't think it makes any money for people.
"If you've got five minutes before a film you put some adverts in there instead."
Last year, Until the River Runs Red which was produced by Poss Kondeatis who studied at UCA Epsom, won Best Short Film.
"The Bafta is there by the bed, it's really heavy. It's odd looking," Mr Orchard said.