Off-duty police officers arrest four Camberley teenagers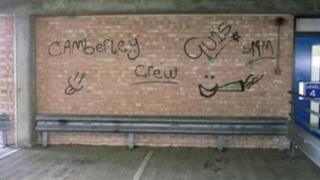 Four teenagers were arrested by off-duty police officers on suspicion of spraying graffiti in a Surrey car park.
The two officers were walking past the multi-storey car park in Portesbery Road, Camberley, on Wednesday at 16:00 GMT, when a can of spray paint was thrown from one of the upper levels.
A group of youths ran away, but were detained by the officers and a member of the Neighbourhood Support Team.
They were arrested on suspicion of causing criminal damage and bailed.
The four teenagers, two 17-year-olds, a 16-year-old and a 15-year-old, were all from Camberley.
The 15-year-old was also arrested on suspicion of tagging "GU15" around Camberley town centre.