Royal Holloway London University gets new £3.5m theatre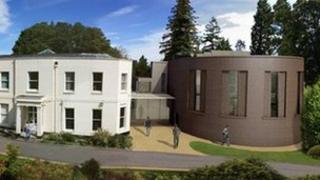 Building work has started on a £3.5m theatre at Royal Holloway in Surrey.
A theatre built in 1981 for £50,000 is being demolished at the University of London's Egham campus to make way for the new facility.
The old theatre, where actor Mark Strong and musician KT Tunstall both trained, had fallen into rapid structural decline.
Architects have designed the new theatre to offer an intimate and flexible space, the university said.
The new building, which will be linked by a glass foyer to a Regency building on the campus, will have a curved gallery overlooking a central space that can be configured in different ways.
Dan Rebellato, head of drama and theatre, said the old building left a wealth of memories and a thriving department after 30 years of use.
He said: "We're sad to see the old place go, but all those triumphs are nothing to the extraordinary possibilities that will be opened up by our new theatre, opening in 2013."