Guildford Cathedral singer to receive Maundy money from Queen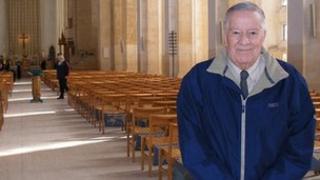 A pensioner who sang at the laying of Guildford Cathedral's foundation stone has been nominated to receive Maundy money from the Queen.
Frank Jupp, 88, was part of a church choir which performed in 1936.
His experience was recounted to the Queen when she visited the cathedral in November to mark 50 years since its consecration.
He will join other pensioners from across the country to receive the money at York Minster on 5 April.
Mr Jupp said he could not believe he had been chosen for the honour.
He said: "I never ever dreamt of this. I never thought it would happen to me, with the amount of people around Guildford, why select me?"
'Swarm of bees'
Every year the Queen ceremonially distributes small silver coins known as Maundy money.
Mr Jupp said he had vivid memories of the day the foundation stone was laid by the Archbishop of Canterbury, Dr Cosmo Gordon Lang.
It took another 25 years before the cathedral was consecrated in 1961.
He said: "It was amazing to see so many people assembled, like a swarm of bees.
"You could hardly move for the amount of people here.
"I'm very pleased they did eventually build the cathedral, because I think it is the centre of Guildford and it's very important that the church should carry it on."