Hogs Back lay-by funds approved in bid to stop dogging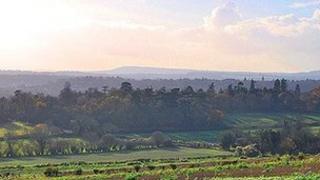 A Surrey beauty spot notorious as a location for adults to meet for sex is to be the subject of a new project aimed at transforming it.
Surrey County Council (SCC) is to provide £3,500 for a safe community and wildlife area on the A31 at the Hogs Back, at Puttenham.
Residents campaigned for years to have the lay-by closed but SCC refused.
Guildford borough councillor Tony Rooth said he hoped the project would solve the problem.
The area is near Puttenham Church of England Primary School and the village.
'No-go area'
"This is a practical and environmental way of curtailing sex in public, which is a tremendous concern for people," he said.
"It has been an issue probably for 10 or 20 years.
"The reason it is so concerning for local residents is that the school is very close to the fields in which people have public sex.
"It became a no-go area for parents and children."
Puttenham Parish Council requested the grant and has been working on an improvement scheme with the borough and county councils.
County councillor Simon Gimson said the parish council was close to finalising its plans, which he hoped would be announced in full by the end of the month.
A statement from Surrey Police said: "There has been a reduction in the number of reported incidents relating to the Hog's Back site made to Surrey Police.
"However, we remain vigilant to community concerns and continue to work with our partner agencies to ensure the location remains a safe place to visit."
Anyone with concerns relating to the site should contact the force, it added.