Charity bike ride for Surrey teen saved by air ambulance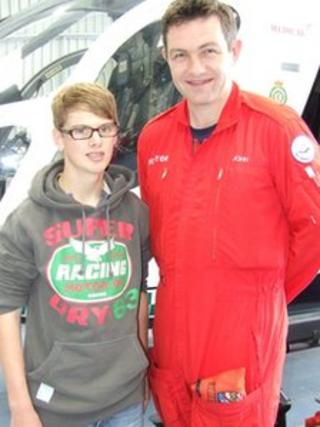 A teenage cyclist from Surrey whose life was saved by an air ambulance crew will compete in a charity bike ride to raise money for the service.
Joe Wilson, 16, from Ripley, was in collision with a car on the final day of his GCSE exams in June 2011.
He was treated at the roadside by the Surrey Air Ambulance team who gave him an emergency anaesthetic, a skill usually performed in hospital.
After five weeks at a specialist trauma centre he has made a good recovery.
He said: "Without the helicopter's rapid help and response, I may not be here today."
'Saved his life'
The George Abbot School pupil suffered a serious head injury and a fractured collarbone after the accident, which happened while crossing Newark Lane, in Ripley.
Dr John O'Neill and paramedic David Wright stabilised him at the roadside and gave him an emergency anaesthetic.
His father Chris, who will also take part in the air ambulance's Double 100 Bike Challenge on 10 June, said: "The prompt arrival of the air ambulance team and the rapid treatment they gave Joe at the roadside saved his life.
"The hospital told us that without the treatment they provided, he probably wouldn't have pulled through."