'Enormous' carp removed from Surrey's Boldermere Lake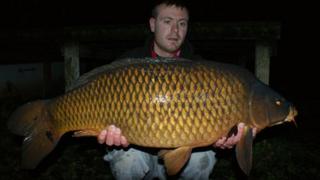 A 31lb (14kg) carp has been removed from a Surrey lake during work to restore a fragile ecosystem.
Surrey Wildlife Trust (SWT) said some "staggeringly enormous" fish were retrieved from Boldermere Lake during a clear-up on Wisley and Ockham commons.
Carp, mirror carp and pike were taken from the lake. Silver birch and Scots pine saplings overtaking the heather on the commons were also removed.
The fish were taken to a fishery where they would be looked after, SWT said.
'Illegal fishing'
Ranger Gemma Grant said Wisley and Ockham commons were a habitat for aquatic plants, invertebrates and insects including dragonflies and damselflies, but other species - carp in particular - were threatening their survival.
She said: "Non-native fish have been a problem at Wisley and Ockham Commons, attracting illegal fishing and eating pond vegetation and insects.
"If we were to leave them in such large, unnatural numbers, they would eventually adversely affect the water quality and biodiversity of Boldermere Lake."
Sixteen common carp, seven mirror carp, 12 pike and nine bream, were retrieved, she said.
Ms Grant also said saplings had been hindering the heather's regeneration on the heathland, which had been changing the habitat for species such as nightjar, woodlark, and reptiles such as adders.
Offenders managed by Surrey and Sussex Probation Trust removed the saplings on 15 acres of land during this autumn and winter.