London 2012: Surrey residents urged to make travel plan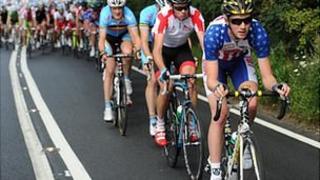 Residents in Surrey are being urged to start planning how they will travel to work during Olympic events taking place in the county.
With 100 days to go until the start of the London 2012 Olympic Games, Surrey Police said its own preparations were well under way.
But Chief Supt Gavin Stephens said the public also needed to start making plans to avoid closed roads.
Four cycling events will pass through Surrey on 28 and 29 July and 1 August.
The county is jointly hosting the men's and women's road races and two time trials.
The Olympic torch relay is also visiting towns and villages in Surrey, with the final overnight stop in Guildford on 20 July before the torch enters London.
"The London 2012 Olympic and Paralympic Games will be the biggest sporting event in the UK's history and here in Surrey we have an exciting part to play," said Mr Stephens.
'Cause for celebration'
"Not only do we have three event days but we also have athletes training and staying in the county.
"This is a sporting event and a cause for celebration first and foremost but measures will be in place to ensure that the Games can be safely and securely enjoyed by all."
The road race route takes cyclists from The Mall, through west London and then out to Surrey and back, including a circuit around Box Hill.
Road closures planned during the Olympic events have already been released.
Surrey Police is taking part in Exercise Green Altius next week which will test its preparations for the Games.
Three other Olympic venue forces as well as local authorities and fire and ambulance services are also involved.
Surrey County Council is resurfacing Zig Zag Road at Box Hill in preparation for the road race events, starting on Monday.
The work, between the Old London Road junction and the Smith & Western restaurant will finish on 1 May.
The council said the road would be closed every day between 07:00 BST and 19:00 BST with diversions in place, but visitors would still be able to reach the National Trust centre and the car park.