Staines announces street party to celebrate name change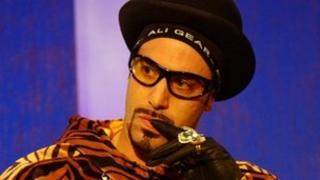 The Surrey town of Staines is hosting a day of celebrations to mark changing its name to Staines-upon-Thames.
Local politicians voted for the change last year in a bid to tackle negative perceptions of the town and promote its riverside location.
In the late nineties the town became synonymous with comedian Sacha Baron Cohen's spoof rapper, Ali G.
Spelthorne Borough Council said the riverside celebrations would be "long remembered".
Councillor Colin Davis said: "It is a pleasure to be part of the team making history."
Mr Davis has previously hit out at "negative reportage" of the town, saying its name had been "sullied by negligent reporting by the media on one hand and perhaps irresponsible humour on the part of others, such as Ali G".
Staines Town Society has said the name-change is "pretentious nonsense" and "absurd".
The celebrations will run from 11:00 to 19:00 BST in Memorial Gardens on 20 May.
Entertainment includes free boat trips, a name changing ceremony, guided history walks and maypole dancing.