N-Dubz's Dappy arrested after fight in Guildford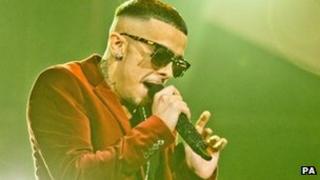 The N-Dubz rapper Dappy was arrested after a fight which left three men with serious injuries, it has emerged.
The performer was held on suspicion of affray, along with another man, after an incident involving two girls and a group of men at a petrol station in Guildford early on 28 February.
Surrey Police said a fight broke after one of the girls was spat at.
Dappy, 24, whose real name is Costadinos Contostavlos, and a 27-year-old man were bailed to a later date.
The men who were hurt sustained facial injuries in the incident on the forecourt of the Shell garage in Woodbridge Road.
A Surrey Police spokeswoman said: "Two girls and three men were outside the garage at 3.30am.
"They were interrupted by two suspects who had turned up in a car and asked the girls to go with them.
"The invitation was refused and one of the suspects then spat at one of the girls.
"As a result an altercation ensued involving the first two suspects and a further group of up to six black and white men who arrived in two further vehicles.
"The trio of men were assaulted and received serious facial injuries in the attack."
Police have appealed for witnesses to contact them.