Surrey 'volunteers' library decision to be made again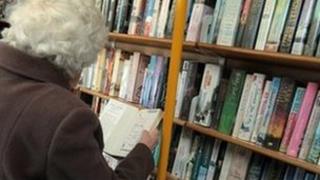 A decision to run 10 libraries with volunteer workers is to be taken again by Surrey County Council's cabinet after the move was ruled unlawful.
The decision-making process was declared flawed at the High Court earlier this month after campaigners opposed the move on a technicality.
Mr Justice Wilkie agreed after a judicial review that training for volunteers was not fully discussed.
The Lib Dems said the Tory-run council should abandon the proposal.
Under the plan volunteers would run 10 libraries in Bagshot, Bramley, Byfleet, Ewell Court, Lingfield, New Haw, Stoneleigh, Tattenhams, Virginia Water and Warlingham.
Legal proceedings were issued by a group of residents called the Surrey Libraries Action Movement (Slam).
'Branches closing'
The council said its policy, which was not criticised by the judge, remained unchanged and the decision would be taken again on 19 June.
"Our aim all along has been to keep all 52 of Surrey's libraries open while elsewhere in the country branches are closing," said Councillor Helyn Clack.
"Although the council had done a lot of work to develop equalities training, the High Court ruled there should have been more detail in the cabinet's papers about it at the meeting last September.
"We are going to take the decision again, with all the information we need about volunteer training."
The judge said that paid staff were more knowledgeable in how to provide assistance to vulnerable users of the libraries.
The council said that before the cabinet meeting, a further consultation would be carried out on equalities training for the volunteers.
'In denial'
The issue is due to return to the court in May as part of the judicial review.
But the council said it did not believe this would be in the best interests of taxpayers or library users and its lawyers were working on a legal agreement, called a consent order, with solicitors for Slam.
Lib Dem leader Hazel Watson said the council was "arrogantly" pressing ahead with its plans despite the wishes of Surrey residents.
"The Conservative administration is in denial as to the extent of the opposition to its plans and it is in denial about losing the High Court case," she said.
"It is forcing 'volunteers' to run libraries, or they will be closed.
"The plan to press ahead is an insult to the many Surrey residents who have campaigned vigorously to keep their local libraries fully staffed by professional librarians."