Local elections: Power of Surrey residents associations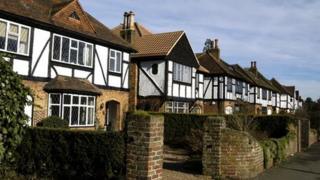 As voters across Surrey head to the polls on Thursday, in one particular area a more suburban political force will be flexing its muscles.
A grouping of seven residents associations are currently the opposition at Elmbridge Borough Council, holding 20 seats compared to the ruling Conservatives' 35.
In neighbouring Epsom and Ewell Borough Council - where there is no election this year - a grouping holds overall control.
So why are voters drawn to residents associations in Surrey?
'No three-line whip'
Group leader at Elmbridge Stuart Selleck believes they offer more local accountability.
"People vote the way they feel they ought to vote on behalf of residents, there's no three-line whip - they vote on their conscience," he said.
"The fact we have a diversity of opinions and talents means we can thrash out ideas and hopefully come to the right decision through consensus."
From 1992 to 2006 the group had overall control of the council.
According to Mr Sellick, a surge in support for David Cameron's Conservatives saw them lose their grip on power.
"Surrey is a very strong blue county and most of us would vote Conservative nationally," he said.
"Perhaps this year we could see the reverse happen."
The residents associations group has been criticised by the Conservatives for their lack of coherence and by Labour for being bad for local democracy.
Council leader John O'Reilly said the power of the associations was unusual, but "Surrey is an unusual place".
He said: "My critique of them is that they are representing their own particular areas... the Conservatives share a basic philosophy, we agree on what's to be done."
He added that his party was fighting the election on its record of freezing council tax and running the authority "efficiently".
Irene Hamilton, chairwoman of the Esher and Walton constituency Labour Party, said that claims by residents associations that they are apolitical were wrong.
"We're all political animals in one way or another and we don't know what their real views are," she said.
"Residents associations have their place. I'm all in favour of them lobbying councils and taking up issues of concern for their area.
"But when they stand for election they become part of the machine and have to take hard decisions."
She added that Labour had not had a councillor in Elmbridge since 2003 and the chamber was a poorer place for the lack of a Labour Party voice.
'Feel they're apolitical'
Barry Fairbank, leader of the Liberal Democrat group which has five seats, said his party would be fighting on improving the environment and increasing recycling rates.
He added that is was the geography of Elmbridge which had given rise to the unusual political popularity of its residents associations.
"If you look at Elmbridge there's no centre like there is in other places, it's a disparate array of villages and towns," he said.
"The residents associations feel themselves, very strongly, that they are apolitical.
"In a way that is what a lot of people would like to see in local government."
Elsewhere in Surrey, elections are taking place for Reigate and Banstead Borough Council, Mole Valley District Council, Tandridge District Council, Woking Borough Council and Runnymede Borough Council.