Hike for killed Det Con Heather Cooper raises thousands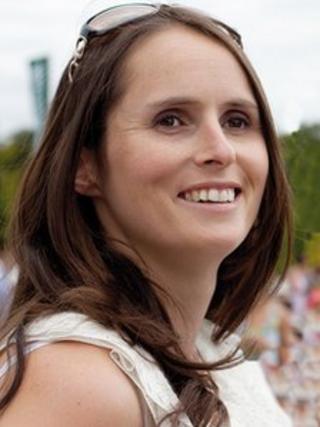 A night-time hike in the Lake District in aid of the children of a Surrey police officer who was found killed in Sussex could have raised up to £60,000.
Sgt Ian Davis who organised the walk in memory of Det Con Heather Cooper said 594 people scaled 175 peaks.
Det Con Cooper, 33, died after receiving a blow to the head and a stab wound to the throat.
Her body was found a few miles from her home in Haslemere, in Blackdown Woods, near Lurgashall, last October.
Mr Davis said: "We had nearly 600 people. If everyone raises £100, that would be £100,000. My aim was to raise half of that."
Teams of walkers had planned to attempt to ascend 214 peaks before sunrise on Saturday.
Hike 'under stars'
Mr Davis said a practice walk by all participants took place under blue skies and when the walkers set off in the middle of the night on Saturday the weather was also clear.
He said: "I woke at half midnight. I stuck my head out of the tent and I could see stars and a crescent moon.
"Then at about half past four, it was very touching.
"I had my light lit, and as far as you could see you could see lights. We had lights, flares and sparklers. It was amazing.
"That was the whole point of it. I did it to organise something crazy - to put a light in her memory at the top of every hill.
'Potential £100,000 fund'
"I think she would have been very touched. If she had been alive she would have taken part. She would have been very proud."
When the Heather Cooper Children's Fund was set up last November, fundraisers set the initial target at £10,000.
By February, the fund had grown to £28,000 and the target was changed to £30,000.
Mr Davis said current donations stood at £40,000, and if the hike brought in a further £60,000, the total fund could reach £100,000 - 10 times the original target.
The appeal is scheduled to be wound up in June.
Ms Cooper, who was originally from York, was on maternity leave when she died.
Her former partner, Peter Foster, 36, of West Street, Haslemere, has been charged with her murder and is due to face trial at Lewes Crown Court in June.