Candidates forced to draw lots in Surrey election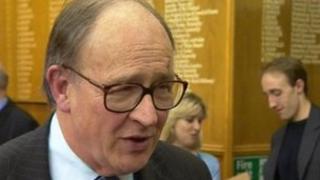 Two candidates seeking election to Runnymede Borough Council were forced to draw lots after they tied votes.
Conservative Party candidate John Edwards' name was drawn by the returning officer enabling the Tories to retain control of Runnymede.
The party also remains in power on Tandridge District, Elmbridge, Woking, and Reigate and Banstead borough councils.
Mole Valley District Council is still under no overall control.
In Runnymede, Mr Edwards drew lots with independent candidate Gillian Ellis, after they both polled 503 votes in the Chertsey South and Rowtown ward.
The Conservatives continue to have 36 seats in Runnymede compared with the residents' association's six.
'Very pleased'
In Tandridge, the Conservatives retained control with a total of 36 seats, compared to the Liberal Democrats' four and two for independent candidates.
Council leader and Conservative candidate Gordon Keymer said he was pleased with the result after having concerns on the campaign trail.
He said: "Overall I'm very pleased with the result against a national background which has not been particularly good over the past couple of weeks."
In Mole Valley, the Liberal Democrats remain the largest party having gained one seat, bringing their total to 19 compared to the Conservatives' 16.
However, they do not have overall control and the two parties will begin negotiations with the six independent candidates on the council.
In Reigate and Banstead, the Conservatives kept control of the council, gaining two seats to bring their total on the council to 37 out of 51. The Green Party won one extra seat.
Labour lost one seat and other parties lost two seats.
The Conservatives also retained control of Woking Borough Council, taking one seat from Labour. The party now holds 21 seats on the 36-seat council.
· All the latest election results are available at bbc.co.uk/vote2012