High Court judge quashes Surrey 'volunteers' library decision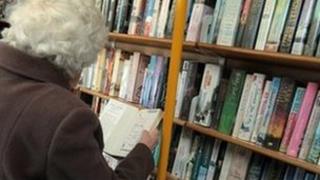 A High Court judge has quashed a decision by Surrey County Council to hand over the running of 10 libraries to volunteers.
Mr Justice Wilkie made a court order stopping paid workers from being taken out of the library.
The council said it will make a fresh decision on the plans on 19 June.
Surrey Libraries Action Movement (Slam), which started legal proceedings, warned the council not to repeat its "wasteful folly".
Under the plan volunteers would run 10 libraries in Bagshot, Bramley, Byfleet, Ewell Court, Lingfield, New Haw, Stoneleigh, Tattenhams, Virginia Water and Warlingham.
The decision was challenged on the basis the council had failed to discharge its public sector equality duties under the Equality Act 2010.
In particular by not providing evidence to show there would be sufficient equalities training for volunteers.
In April, Mr Wilkie ruled the decision as "unlawful".
'Ill-judged'
Lee Godfrey, from Slam, said: "Surrey County Council has been sent a very clear and strong message.
"It's library plans were ill-judged, unwanted and illegal. The council had a good run over its library plans but that run is now over."
The council said it would consult on equalities training and then look at the decision again in June.
Helyn Clack, cabinet member for community services, said: "Today's order brings the court proceedings to close. We've agreed that the best course of action is to take the libraries' plans back to cabinet and make the decision again, with all the information we need about volunteer training.
"A lot of work has already gone into making sure community library volunteers receive the training they need to help people with disabilities and other special needs.
"I'd urge people to give us their views in this latest consultation so we can further enhance the training package we have created."