Surrey Police warning over London 2012 cycle race tickets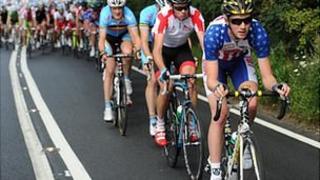 People planning to watch the London 2012 cycling road race at Box Hill in Surrey have been urged only to buy tickets through official channels.
Surrey Police said some people would try to sell fake tickets or set up unofficial websites, which it warned residents not to use.
Officers said the official place to apply for tickets was through the London 2012 tickets website .
It follows the announcement that tickets will go on sale on 29 May.
About 15,000 spectators are expected in the area around Box Hill for the men's and women's events.
'Insecure websites'
Ch Supt Gavin Stephens said: "I would urge people to only use the official channels to purchase tickets for the London 2012 Olympic Games.
"There are some people who will try to capitalise on the demand for tickets by selling fake tickets or setting up unofficial and potentially insecure websites and we want to make sure it is these people that miss out and not you."
He added: "Equally, if you find that you can't attend an event, there is an official process for selling on your unwanted tickets."
Tickets can be returned through the London 2012 official ticket exchange to get a refund before the ticket is resold.
Residents have also been reminded to report any suspicious activity, or information about any potential disruption to the Olympic events.
Ch Supt Stephens aid: "We have well-rehearsed plans in place and are continuing to put our responses to the test but we also need local residents to play their part.
"The London 2012 Olympic Games should be a cause for celebration but we have to be prepared that a small minority could try and use the event to get their message across to a global audience."