London 2012: Surrey Olympic roadworks 'hurt' businesses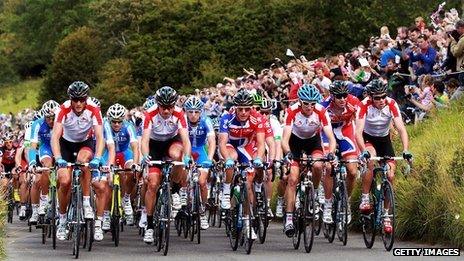 Businesses based along the route of the Olympic cycling road race have complained that resurfacing work will divert customers away.
Overnight closures along the A24 between Dorking and Leatherhead will begin in June and last four weeks.
Residents and businesses claim they have received little detail as to how they will be affected.
However, Surrey County Council said information will be sent out before work starts.
The overnight roadworks are scheduled to start at 20:00 and finish at 06:00 BST.
Brian Thompson, who manages restaurant Frascati, said there is no clarity over how and when the work would be carried out.
He said: "When it comes to the evening trade people have to travel here using a car and we just cannot afford to not have people come here.
"There's currently a constant stream of cars and they will be diverted away and that's our trade.
"They [the council] don't care, they honestly don't care."
The cycling road race includes a 9.6-mile (15.5km) circuit around Box Hill before finishing in The Mall in London.
A council spokesman said: "The roadworks will not start until the middle of June but we had to apply for a road traffic order in advance.
"In the coming weeks we will be letting people know exactly what's happening and what we are doing to minimise any disruption."
Related Internet Links
The BBC is not responsible for the content of external sites.