Redhill Aerodrome to submit new runway plan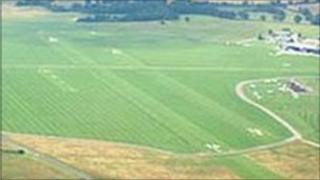 The owners of a grass airfield in Surrey are to submit a revised application to build a hard runway.
Redhill Aerodrome wants to replace its three grass runways with a concrete one, giving it potential to increase flights from 60,000 to 85,000 a year.
Tandridge and Reigate and Banstead Councils turned down its original application in 2011.
Aerodrome boss Jon Horne said the new runway would create 170 new jobs and bring economic benefits.
The aerodrome, which is home to more than 20 companies employing hundreds of people, has been in operation for about 80 years.
'Noise and pollution'
Mr Horne said the new plans would see the width of the proposed runway reduced, improved road safety and transport provision and better landscaping.
He added: "We have spent five months considering what the best course of action would be in respect of gaining approval for a hard runway at the aerodrome.
"The option to appeal the decisions against the scheme in 2011 was supported positively by strong legal advice, however, we currently believe the best way to proceed is by directly addressing the reasons for refusal in a new amended application."
"Not only will this secure the existing 450 jobs supported by the aerodrome, but we believe it will lead to the creation of at least another 170 jobs over time as well as support and encourage other economic activity and regeneration in the local area," he added.
More than 1,000 people signed a petition against the original plans which went before Tandridge and Reigate and Banstead councils in November and December 2011.
Opponents at the time, including East Surrey MP Sam Gyimah, said the new runway would create an unacceptable level of noise and pollution and destroy the landscape.