University of Surrey reveals it tested 2,500 animals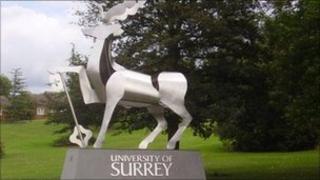 More than 2,500 animals have been used in experiments in the last year at the University of Surrey, bosses have confirmed.
It said the Faculty of Health and Medical Sciences used 2,371 mice, 124 rats, 16 guinea pigs and five rabbits.
The figures were released after a Freedom of Information request from animal rights activists Luke Beevers.
The university, which also used 1,458 chicken eggs, said animals were tested only where there was no alternative.
In the information it released, it also confirmed it is currently holding three rabbits, 12 guinea pigs and 655 mice, for research purposes.
Mr Beevers has not yet commented on the figures.
In a statement, the university said animal testing was a minor aspect of its scientific research.
All its work involving animals is carried out under licences issued by the Home Office, it said.
Government figures for 2010 showed that about 3.7m scientific experiments in the UK involved animals.
Following the publication, Dr Adrian Stallwood from Animal Aid, which campaigns against animal testing, said there was a large amount of alternatives to using animals in scientific research.
"We'd like to see a real commitment now from government, scientists and medical research bodies to sit down and look at these alternatives rigorously," he said.
"I think the main barrier is tradition. Individual scientists don't question the practice because that's how they've always been taught. It's regarded as normal research protocol."
Iain Simpson from the group Pro-Test, which is in favour of animal testing, said where alternatives to using animals are available they must be used.
"If you don't use the alternatives you're breaking the law," he said.
He also said animal testing was one of the most expensive research methods.
"When there are alternatives all the universities and drug research companies leap at them because not only do they legally have to use the alternatives it saves a lot of money," Mr Simpson explained.