High Court battle over Conan Doyle's former home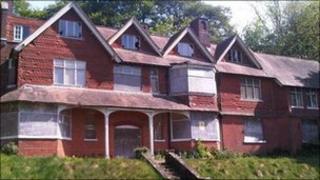 A High Court battle over the former home of Sherlock Holmes creator Sir Arthur Conan Doyle has begun.
Campaigners are opposing plans to part-demolish Undershaw in Hindhead, Surrey, and turn it into housing.
The Undershaw Preservation Trust wants Waverley council's planning permission for the development to be overturned.
Campaign lawyers said there were more than 1,300 objections to the development. The council said it was confident its decision was correct.
Grade II listed Undershaw, built in 1897, was where Conan Doyle wrote the Hound of the Baskervilles and The Return of Sherlock Holmes.
'Opinions ignored'
The author designed and lived in the property with his wife and entertained many writers there, including JM Barrie, creator of Peter Pan, and Bram Stoker, creator of Dracula.
John Gibson, founder of the Undershaw Preservation Trust, said campaigners wanted the building to be restored and had "many dreams" for the property, including that it could become a museum or literary centre.
Andrew Lockley, head of public law at Irwin Mitchell, solicitors for the campaigners, said the council had ignored public opinion and made basic errors.
He said: "It has agreed to a plan which involves the partial demolition, alteration, conversion and extension of the building instead of a considered restoration."
Matthew Evans, Waverley's head of planning, said: "Waverley is confident the High Court will confirm the decision to grant permission was correct.
"The planning consent allows for the conversion of the original house into three houses and the replacement of the 1920s hotel wing with a new wing of five town houses and to retain the stable cottage."
He added: "If Undershaw was to be bought by campaigners or another purchaser with a view to an alternative use for the building and promoting it to tourists, we would be happy to discuss the proposals with them."