Sir Arthur Conan Doyle house campaigners win court ruling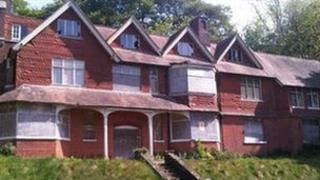 A High Court judge has ruled that plans to develop the former home of Sherlock Holmes creator Sir Arthur Conan Doyle "must be quashed".
Waverley Borough Council wanted to part demolish Undershaw, near Haslemere, Surrey, and turn it into flats.
The plans were challenged by John Gibson, founder of the Undershaw Preservation Trust.
The Grade II-listed property, built in Hindhead in 1897, was where Conan Doyle wrote The Hound of the Baskervilles.
In September 2010, Waverley Council issued decision notices to allow owner Fossway Ltd permission to redevelop the property.
'Elementary' errors
Mr Justice Cranston said that, because of legal flaws, the council's decisions to grant planning permission and listed building consent must be quashed.
Solicitors Irwin Mitchell, who represented Mr Gibson, said the council had made "elementary" errors.
Andrew Lockley, the firm's head of public law, said: "The local authority failed to ensure that it received English Heritage's views on the plans before taking its decision, despite consultation with English Heritage being a legal requirement due to the property's Grade II-listed status."
The council, which is to pay Mr Gibson's costs of £20,000, was given time to consider whether to appeal.
Mr Gibson said: "This has been a long and difficult battle to save Undershaw and we are absolutely thrilled with the decision to quash planning permission to redevelop the property.
The judge said Fossway had bought the property for its development potential and its scheme for the house included a gazebo within the grounds, which would be open to the public and provide information about Conan Doyle.
He said that lawyers for the council had made it clear that it wanted to preserve Undershaw, which was apparent from the amount of money spent to make it secure after Fossway had neglected the building.
Objectors to the council's plans include Sir Christopher Frayling, ex-chairman of the Arts Council, author Julian Barnes who set his Booker Prize-nominated novel Arthur And George in Undershaw, writer Ian Rankin and broadcaster Stephen Fry.
The building had been used as a hotel since the 1920s and was left empty in 2005, falling into disrepair.