Celebrations mark the Queen's Diamond Jubilee in Surrey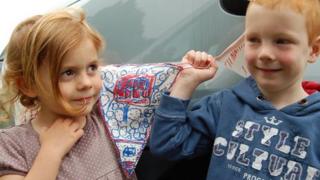 Thousands of people have celebrated the Queen's Diamond Jubilee at hundreds of events in Surrey.
With 419 applications, Surrey had the second highest number of street parties in England and Wales, only Hertfordshire, with 451, had more.
The Queen's Jubilee was also celebrated during a service at Guildford Cathedral.
The Dunkirk little ship Papillon and tug Swingbridge 2 were among the vessels in London's Jubilee Pageant.
'A bit muddy'
Papillon skipper Ian Gilbert, 61, from Shepperton, said: "When you're at the helm you tend to miss a lot of what's going on because you're just so focused, but it was very enjoyable and it was all worth it.
"This isn't going to happen again in our lifetime. I don't think anyone will put a show like this on again in our lifetime.
"We're particularly proud because we had the biggest contingent of any association and I think that shows the importance of these little boats to the country and to the sovereign."
In Oxted up to 1,000 people were marking the Jubilee with a picnic in Master Park.
Parish councillor Terry Dillon said: "It's not actually raining here. It's a bit muddy but people are gathering.
"To us, we've got grandchildren so it's great for them. We've dug out some old flags going back to the silver jubilee, I think, and put those up.
"We overlook the park so we felt we should do something. We've wrapped up, we've got the picnic ready and we're ready to go," he added.
Royal motorcade
Diamond Jubilee celebrations began at the Derby at Epsom on Saturday.
Members of the Red Devils aerobatics team parachuted on to the course flying a large union jack at the start of the day.
The Queen, wearing royal blue, watched the races after touring the course in a motorcade.
She was accompanied by the Duke of Edinburgh, along with the Duke of York and Earl of Wessex and granddaughters Beatrice and Eugenie.
After spending time in the royal box, the Queen went to the paddock to inspect some of the horses running in the Diamond Jubilee Coronation Cup.
See all the latest Diamond Jubilee news and features at bbc.co.uk/diamondjubilee